Marketing, Advertising & Promotion
We get your business in front of the right people, at the right time, in the right way
Advertising is the most powerful tool, that has the power to make a product or a service known to the world and directly influence the consumer audience and their preferences.
For this reason, colossal companies spend even billions of dollars or euros annually on advertising services, knowing the proven benefits of advertising. Online advertising also has better value-for-money than traditional media advertising.

As expected, top internet companies are going to rule the roost in the coming years, thanks to the dominance of digital advertising. Among these, Google is the clear market leader; followed by Facebook, which will account for 13% of the market; and Amazon, which will have a share of 2.5%, based on some digital advertising statistics.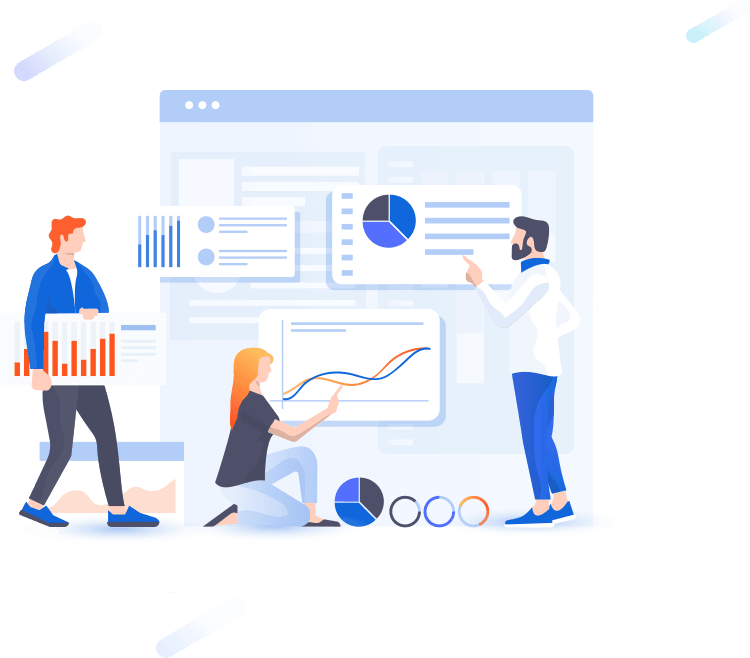 Stopping advertising to save money is like stopping your watch to save time.

– Henry Ford
Global advertising spending will reach 656 billion dollars in 2020, while digital advertising spending worldwide is estimated to grow from $283B in 2018 to $335B in 2020.
It's time to give your business the chance to appear to millions of people who are genuinely interested in your products and services through online advertising and take advantage of the multiple benefits it can provide, such as sales growth, website traffic growth, expanding your customer base, improving search engine rankings, and more.
Content Marketing
Provide relevant, reliable and consistent content to increase sales, attract more customers, and reduce costs.
Social Media Marketing
Create top-performing social media campaigns and start building a dedicated customer & fan base.
PPC Advertising
Target your ideal keywords and let the users easily find you at the top of Google's search results. PPC allows you.
Google Advertise
Through our many years of experience and being aware of the features that Google offers, we create personalized, unique and original campaigns for you using the most effective practices to achieve the best results.
With Google Ads, you have the opportunity to view your page, gain new visitors and potential customers to your site and increase your sales. It also allows you to set your ad budget by paying only when a user clicks on your ad.
Take advantage of the benefits that Google offers you, and give your site, business or product the chance to get promoted through Google, the most popular search engine with millions of visitors on a daily basis, using our advertising services.
The ad in Google Adwords became Google Ads. The benefit is HUGE. Thousands of impressions on potential customers will show your product, whether or not you have done the right search engine optimization (SEO) for your page.
Facebook Advertise
Facebook is one of the most popular social networks with millions of users visiting it on a daily basis. For this reason, this network is a great opportunity to promote your business, services and products through the advertising services it provides.
In addition to creating and managing Facebook pages, we also undertake a very important part of it, creating ads to promote your business profile and business, as this social network is a huge opportunity for you to target the right audience.
We follow specific and efficient promotion strategies while continuously making optimizations. With Facebook Tools, you can select the audience you want your ad to appear to, in order to have a target audience for your ad.
You can choose between Photo Ads, Video Ads, Marquee Ads, Alternate Image or Video Ads (Carousel Ads) as needed. You also determine the budget and choose how much, when and where you want your campaign to appear, e.g. Facebook, Instagram, Messenger, Audience Network or all.
Twitter Advertise
Twitter, another popular social media site with more than 300 million active users and over 500 million tweets daily, offers you the opportunity to advertise your business, products or services.
To promote you more effectively through Twitter, we undertake the creation of promoted tweets and promoted accounts to make your business known to the public, increase your followers, attract new customers, increase sales, enhance your brand and increasing engagement.
Depending on the reason you want to advertise, Twitter suggests the most appropriate type of ad for the best possible result and maximum performance.
Instagram Advertise
Instagram, like Facebook, is another effective social media tool that gives you the chance to win by promoting your business, products and services.
Depending on your business needs, you can choose between Photo Ads, Video Ads, Marquee Ads, Alternate Images or Videos (Carousel Ads) and Instagram Stories , where you have the ability to connect with over 400 million users daily.
Exact targeting options are also provided for the ad, such as choosing the geographical area, age, gender, language, activities and interests of the users.
Contact us to create the most relevant campaign for you and give Instagram users the chance to get to know you and your business through photos and videos.
it's all about promotion
Understanding
Your Business
Our strategy includes constantly evolving, to ensure we're providing exceptional promotion for business.
various promotional activities
We promote your Website
We promote your Business
Advertising
Advertising campaigns
We design, create, and promote unique and original ad campaigns, tailored to the type and needs of your business. At the same time, we provide continuous monitoring while making continuous improvements to maximize performance and the best possible results.
Remarketing
Remarketing
With Remarketing we are able to "keep track" of customers who have visited your site or made a purchase within it or have registered with email. Once they leave your site, your online ads will start running on them. Targeting ads to potential customers is one of the most successful ways for people to know your business and products.
Banners
Web Banners
We design and install attractive advertising banners, complex banners (eg with text, animations, audio, images, and video) or simple banners, tailored to your preference and positioned to fit your needs, through which various users have the ability to instantly get transferred to your page with just one click. Banners are mainly placed on sites that have high visitor traffic to give you the best possible performance. They are a powerful and useful web marketing tool that enables you to view your website through large and popular sites.
Videos
Videos
It is well known that video is an easy way to grab the attention of different visitors and to reach new customers as video viewing is much more likely to attract interest than a simple text. We design and create customized digital videos for you: Corporate presentations , Product placement , Advertisements , Your page , Your channel on Youtube or Vimeo , Video Clip
Dynamic
Dynamic Remarketing
Unlike simple Remarketing, which displays general ads to visitors and customers who have visited your site, or ads related to the actions they have taken within the page, Dynamic Remarketing displays to your site's visitors/customers remarketing ads related to specific products for which they had shown interest.
97% of social marketers list Facebook as their most used and useful social network
37% of consumers find purchase inspiration through social media
83% of people agree that while they want to filter out obnoxious ads, not all ads are bad
Google's share of the global advertising market will be 23% in 2020
Got something in your mind?
Let's start a project together
Subscribe to our Newsletter
Stay tuned for the latest Internet & Technology news, how-to guides and exclusive offers!